Greetings fellow bookworms! I trust we are all feeling fit and well and glad to reach the end of yet another week.  Little bit scared that February is almost here already too! Shops are already full of Easter Eggs I see!  Always a positive thing!! 😉
On to the books! And there has been a good mix of reading some fantastic stories this week and receiving some great new books too so without further ado…….
BOOKPOST
my order from the lovely folk at  Goldsboro Books arrived this week and that is a signed first edition of the latest release from Ragnar Jonasson  'Rupture' so am excited to have this on my shelves now along with the others and excited to read another thrilling part of this series as this is book four!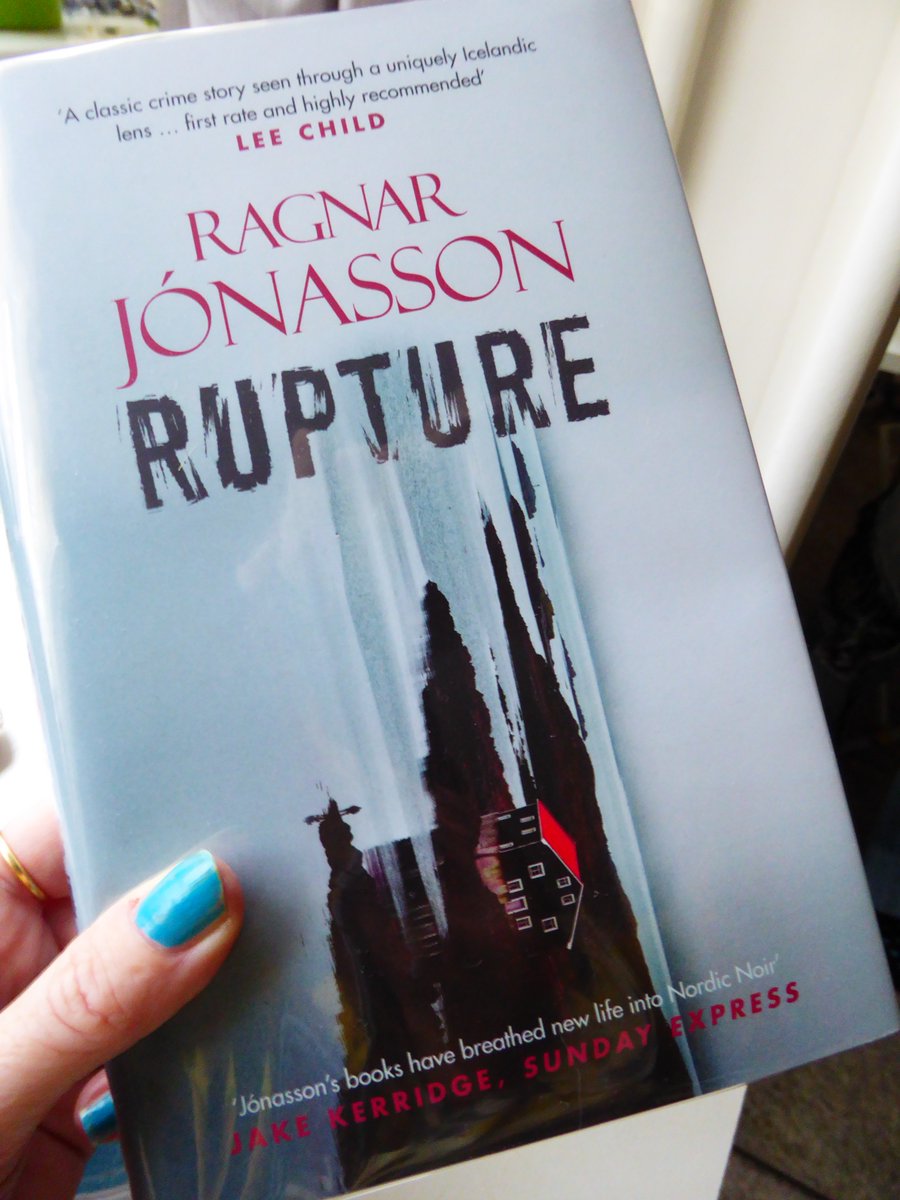 THE BLURB  
  1955. Two young couples move to the uninhabited, isolated fjord of Hedinsfjörður. Their stay ends abruptly when one of the women meets her death in mysterious circumstances. The case is never solved. Fifty years later an old photograph comes to light, and it becomes clear that the couples may not have been alone on the fjord after all…
In nearby Siglufjörður, young policeman Ari Thór tries to piece together what really happened that fateful night, in a town where no one wants to know, where secrets are a way of life. He's assisted by Ísrún, a news reporter in Reykjavik, who is investigating an increasingly chilling case of her own. Things take a sinister turn when a child goes missing in broad daylight. With a stalker on the loose, and the town of Siglufjörður in quarantine, the past might just come back to haunt them.
Haunting, frightening and complex, Rupture is a dark and atmospheric thriller from one of Iceland's foremost crime writers. 'Traditional and beautifully finessed… morally more equivocal than most traditional whodunnits, and it offers alluring glimpses of darker, and infinitely more threatening horizons' Independent • 'Jonasson's books have breathed new life into Nordic noir' Sunday Express • 'Bitingly contemporary in setting and tone' Express • 'A modern take on an Agatha Christie-style mystery, as twisty as any slalom…' Ian Rankin • 'A classic crime story seen through a uniquely Icelandic lens … first rate and highly recommended' Lee Child • 'Chilling, poetic beauty… a must read!' Peter James • 'British aficionados of Nordic Noir are familiar with two excellent Icelandic writers, Arnaldur Indridason and Yrsa Sigurdardottir. Here's a third: Ragnar Jónasson … the darkness and cold are palpable' Marcel Berlins, The Times For fans of Trapped, Yrsa Sigurdardottir, Agatha Christie and Ann Cleeves
Next up in the post this week was this rather gorgeous proof of The Roanoke Girls by Amy Engel which I've been hearing lots about via Twitter and I was excited to receive my copy and will enjoy reporting back soon hopefully with my thoughts!  Sounds like a real rollercoaster ride of emotions ahead for me with this one!
THE BLURB  
 A gripping, provocative thriller about the twisted secrets families keep, perfect for fans of The Girls. Beautiful. Rich. Mysterious. Everyone wants to be a Roanoke girl. But you won't when you know the truth. Lane Roanoke is fifteen when she comes to live with her grandparents and fireball cousin at the Roanoke family's rural estate following the suicide of her mother. Over one long, hot summer, Lane experiences the benefits of being one of the rich and beautiful Roanoke girls. But what she doesn't know is being a Roanoke girl carries a terrible legacy: either the girls run, or they die. For there is darkness at the heart of Roanoke, and when Lane discovers its insidious pull, she must make her choice…
And i was also lucky enough to win a prize from the lovely folks at Michael Joseph Books on their Twitter feed and it was a book to make me feel warm and fuzzy all about Hygge – The Danish Art of Happiness by Marie Tourel Soderberg.  If you haven't heard of Hygge by now then where have you been?!  Perfect for these cold and grey days!
Oh and by the way, the Pete's Dragon figurine was a recent buy as I'm obsessed with him – the original though! Not the recent remake!! I can't even bring myself to watch it even though I've heard good things!!
THE BLURB
Others books will tell you how to be hygge. This is the only book that will show you.
Though we all know the feeling of hygge instinctively few of us ever manage to capture it for more than a moment.
Now Danish actress and hygge aficionado Marie Tourell Søderberg has travelled the length and breadth of her home country to create the perfect guide to cooking, decorating, entertaining and being inspired the hygge way.
Full of beautiful photographs and simple, practical steps and ideas to make your home and life both comfortable and cheering all year round, this book is the easy way to introduce hygge into your life.
And then I paid a visit to the Library to take back one book and can never seem to leave without bringing at least one home with me, despite the mountain of books I already have to  read at home!  And I chose The Proof of Love by Catherine Hall as I heard Simon Savidge of Savidge Reads on his YouTube Channel waxing lyrical about it so I had to read it! So far so good!!
THE BLURB
During the long, hot summer of 1976, a young Cambridge mathematician arrives in a remote village in the Lake District and takes on a job as a farm labourer. Painfully awkward and shy, Spencer Little is viewed with suspicion by the community and his only real friendship is with scruffy, clever ten-year-old Alice.
BOOKS I'VE READ THIS WEEK
All top reads this week so that always helps my reading mood!!  Can highly recommend them all if you are looking for an enjoyable new adventure to dip into!
Swimming Lessons by Claire Fuller
A Gentleman In Moscow by Amor Towles
The Keeper of Lost Things by Ruth Hogan 
Britt-Marie was here by Fredrik Backman
And that is that!  Got another couple of books on the go already which will hopefully make the forecast rainy weekend a brighter prospect! Anything you have read that you need to recommend to me?!  Trying my best not to add any new purchases to my bookshelves at the moment but have found myself clicking on a couple of NetGalley covers – ebooks don't count as real books do they?!
HAPPY READING!!